Testimonials
Our graduates, and current and former parents share their thoughts on Tartu International School.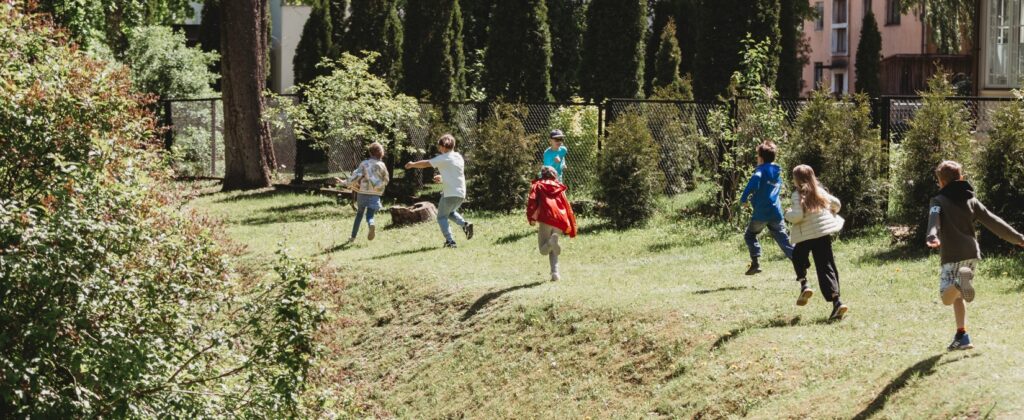 Tartu International Kindergarten is a wonderful little community. Having English as the working language was our main reason for deciding to send our little one there. It helped a lot with her English coming from an Estonian/English household in Estonia. As the whole kindergarten has only 24 kids in total, the groups are small and this allows the teachers to have a more personal approach. It is also great that all the teachers and kids know each other and there is a lot of mixing in between age groups on a daily basis. Being both a parent and kindergarten board member, I also feel that Tartu International Kindergarten works closely together with parents, listening to their recommendations, and has a very proactive approach on issues raised. We could not be happier about the choice of kindergarten for our daughter.
Starting a kindergarten in a foreign country could have been a nerve-racking experience. Therefore, we really appreciated the simple and fast application process as well as the welcoming and warm attitude we experienced from the first moment at Tartu International Kindergarten. It also appealed to us that in addition to having children from different countries and backgrounds, the kindergarten has such diverse and multilingual staff. I think in addition to the great staff and cosy environment, one of the greatest advantages of our kindergarten is that they really have made an effort to play and learn outside as much as possible. The kindergarten has a nice playground and a park next to its territory, so there is plenty of space to run around and explore, which is amazing.
We have found that Tartu international Kindergarten has been a perfect place for us, not only because it provides our child with a safe environment and very caring teachers, but because it also gives parents an opportunity to get to know other expats and local parents through community events and festivals, and to make friends outside of work or studies.
Our two daughters started at TIS in September 2015, when they were 12 and 14. They spent two years at TIS: Julia in grades 7 and 8, Ida in grades 8 and 9.
Our girls had never changed schools before and had no previous international experience, but from day one, our girls quickly became part of the TIS family. Students and staff are so open and welcoming to new students making the transition to a new school so smooth.
The teachers were very attentive to establishing the girls' academic levels and how to best set their individual curriculums and support them moving ahead. It all just flowed so seamlessly. And to top it all off, the girls quickly transformed at TIS. Back home us parents had to nag them about doing homework etc., but at TIS their own motivation increased quickly, and suddenly they actually enjoyed learning and working to learn. So, their results improved a lot – without any nagging at all from us parents. There is nothing better than seeing your children so happy at school while at the same time achieving good results.
The teachers are absolutely amazing; they are all so attentive to each individual student, their respective personalities and needs. Plus, somehow, incredibly, they all manage to make learning FUN. And the academic achievements that come as a result of this are outstanding. Then there's the size of the school; being small, everybody – smaller children, older children, staff etc. – all get to know each other really well and it all really becomes a second family.
We have now moved back to Sweden again, where the girls once again go to regular public schools.
Academically, both girls are now way ahead of their classmates in Sweden; in some cases, such as for maths, they are actually two years ahead of their classmates. The motivation for studying and learning that came during their TIS years is something that has stayed with them, and they are, as a result of that, finding school easier/more fun than a lot of their peers. That's something I think will stay with them as they move through high school and on to university.
It can sometimes also be frustrating for them though, because they do compare their current schools and teachers now to when they were at TIS, and they do miss TIS a lot. I think our whole family unanimously agrees that TIS, the school, its staff and students, are truly exceptional and having had the opportunity to be part of the TIS experience is truly unique and something that will have a positive impact on the future of our daughters for sure!
My name is Ida and I am from Sweden. I studied at Tartu International School when I was in years 8 and 9 (2015–2017). 
My time at TIS was so nice; I learnt a lot, made new friends and got to experience many exciting things. I really loved the atmosphere at TIS. Everyone was so helpful and understanding. We all came from different countries and cultures, but it didn't matter. We all became good friends and enjoyed learning from each other.  
One thing that makes TIS different from any other school I've been to is how the teachers go out of their way to make sure that everyone is enjoying school and that you get the help that you need to succeed. Another thing that makes TIS stand out is how close everyone at the school is. When I went there, we would spend time with everyone at the school, including the younger ones. We didn't care which grade you were in; instead we all hung out together. TIS doesn't feel like a normal school it is more like a big group of friends or like a big family.  
Right now, I study at a high school in Sweden, and my time at TIS has been really useful for me here at my new school. Before coming to TIS I wasn't the best in school, I had troubles in maths, and I was not the best in my class at any subject. Now I am almost a year ahead of everyone in my class and I don't find Swedish school to be difficult anymore. Not only did I learn a lot of facts at TIS, but I also learnt how to study and what I should do to make school less stressful. This really helped me when I started my new school here in Sweden. It also helped me to become less shy and more open when it comes to meeting new people.  
So, I want to thank all of the teachers at TIS, and I am so grateful that I got the opportunity to move to Estonia and go to TIS!
I studied at TIS from 2009 to 2014. I am Israeli, lived half of my life in Estonia.
I remember being as excited as I was terrified coming on my first day to TIS back in 2009; my fourth-grader self, clutching a heavy Oxford English–Hebrew dictionary, I remember being curious as to what studying in such a small school in English might be like, and who my future friends might be. Little did I know that I was arriving at the doorstep of my new home, a warm community whose teachers and students shaped who I would grow to be throughout my middle-school years. Regularly, I warmly remember my time at TIS: the annual summer trips, the multitude of languages, study opportunities, my first essay, my first research project, and the numerous friends I would meet, some of whom I still talk with to this day.
You might think TIS is small, and back when I arrived, the entire school (grades 1 to 9) only had 25 students! But it is precisely this cosiness that fosters encouragement, creativity, leadership, friendship, responsibility, and commitment: crucial skills that are paramount for global citizens living in the 21st century.
The teaching team at TIS applies the IB curriculum to focus on the individual and their strengths, developing the student by encouraging them to pursue their passions, all the while challenging them to become critical enquirers who are both keen and skilful across a variety of disciplines.
I am currently majoring in Mathematical, Computational, and Statistical Sciences (MCSS) with a minor in Chinese Studies at Yale-NUS College in Singapore. It is my years at TIS that gave me the tools and skills that encouraged me to challenge myself in every way in order to best prepare me for high school, university, and for life.
I truly can't imagine where I would be nowadays if it were not for TIS!